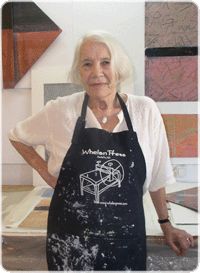 Shlomith Haber-Schaim (Rieger) was born in Tel Aviv and grew up in Jerusalem. She studied at the Bezalel School of Art in Jerusalem with Ardon, and at the School of the Art Institute of Chicago with Vighard. Both her mentors were Bauhaus-trained.
Haber-Schaim set up a studio in the South End, Boston, Massachusetts, where she painted in oil and acrylics. In 1970, she began printing etchings and monotypes, first at Experimental Etching Studio, and then in her studio. She exhibited paintings and prints in solo and group exhibitions, including the "New American Monotypes" Smithsonian Institution Traveling Exhibition and the Philips Collection in Washington DC.
Haber-Schaim was Artist in Residence at the Burston Graphic Center, Israel Museum, Jerusalem in 1983, and at Mishkenot Sha'ananim (Jerusalem Foundation), Jerusalem in 1984. She received the National Endowment for the Arts/New England Foundation Regional Fellowship for her paintings in 1994.
Until she moved back to Israel in 2005, Haber-Schaim was a member of the executive board of The Boston Printmakers, which organizes the North American Biennial, as well as other national and international print exhibitions.
Haber-Schaim currently works in her studio at Rabbi Tarfon Street in Jerusalem.